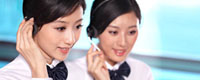 Name: Lisa Liu
Tel: 0086-0532-87670823
Fax: 0086-0532-80687027
Mobile: 0086-13730919161
E-mail: chinagascylinder@163.com
Skype: lisa_qingdao
Skype: baigongcn
Skype: cnbaigong
Skype: cngascylinder
QQ: 1722660976
QQ: 2100467747
QQ: 1296442798
QQ: 2376763120

| | |
| --- | --- |
| | Product name : Sulfur hexafluoride gas SF6 gas |
Details:
Products name: Sulfur Hexafluoride
Other name: SF6
CAS No.:2551-62-4
EINECS No.: 219-854-2
UN No.: UN1080
Purity: 99.995-99.999%
Dot Class:2.2
Appearance: Colorless,non-toxic and odorless gas
Molecular weight:146.05
Melting point:-62℃
Boiling point:-51℃
Water solubility: slight soluble
Density:6.0886kg/m³
Descriptionof Sulfur Hexafluoride

SulfurHexafluoride(SF6) gas is a colorless, odorless, nontoxic, nonflammable gas thatis used as an insulating gas in electrical equipment. At atmospheric pressures,sulfur hexafluoride gas sublimes directly from a solid to a gas. It is shippedas a liquefied compressed gas. Sulfur hexafluoride gas is used for leakdetection and as a gaseous dielectric for transformers, condensers, and circuitbreakers. Sulfur hexafluoride gas is highly effective as an etchant in thesemiconductor industry.
Other main gases we could supply as follows:
Speciality Gases: Sulfur hexafluoride SF6, Ethylene C2H4, Hydrogen Sulfide H2S, Methane CH4, Hydrogen Chloride HCl, Nitric oxide NO, Sulfur Dioxide SO2, Carbon Monoxide CO, Nitrogen Trifluoride NF3,Boron Trifluoride BF3, Tungsten Hexafluoride WF6, Hydrogen Bromide HBr, Boron Trichloride BCL3, Monochloro Methane CH3Cl,etc
Industrial Gases: Hydrogen H2, Oxygen O2, Nitrogen N2, Propane C3H4 , Acetylene C2H2, Nitrogen N2, Liquid Nitrogen, Liquid Ammonia, Liquid Argon, Dry Ice, Carbon Dioxide CO2, etc
UHP Rare Gases:Argon Ar, Helium He, Neon Gas Ne, Xenon Xe, Krypton Kr, etc.